I love ingenuity. Nothing else could ever beat creativity on my book. Like me, I bet you've seen all sort of t-shirts for kids. From Disney character's to silly one liners, to the cute little puppy with a bow tie. But, have you seen a shirt with stains that were meant to be?! Didn't think so 😉
uh-oh industries brings creativity and ingenuity to their Messy Line of T-shirts and onesies. uh-oh indsutries sent us a shirt for mister A to review. I had chosen the sauce toss but he was not sold on it. Once I let him see all his options he went straight for the cheesy fingers! The shirt incorporates A.'s two favorite things: the color red and cheesy fingers!
We got the shirt right as we were about to leave for a little reunion but A. was so excited that his shirt was finally here! Man, my boys love their packages!
He took the shirt out of the bag before I was even able to snap a few photos! He was so happy! And after putting it on he told me that it was his new favorite shirt. And it is still his favorite shirt! He will randomly come and ask me for his red shirt, even if it is nap time, bath time, or dinner time!
This shirt makes A. so happy and silly. He transforms. It might be the fact that he likes it so much. It might be that he is simply silly.
The cheesy fingers shirt is made with wither a 5.3 oz interlock knit 65%polyester/35% cotton blend or 6.4 oz 100% cotton, your choice! I'd go with cotton hands down!! The shirt comes in 3different colors: white, fuchsia, and red.
But maybe you do not like cheesy fingers. Well, how about these other designs: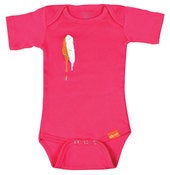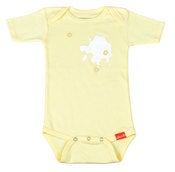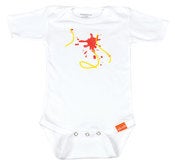 uh-oh industries is now my favorite shirt store! I am looking forward to what comes next for them. Rest assured you'll be hearing more about them here! And if you need a gift for your next baby shower, or birthday, or just because, make sure to visit uh-oh industries.
– GET IT –
Find uh-oh industries online.
Shipping only $2.95!!
– GET SOCIAL –
Follow uh-oh industries on Facebook, and Twitter!
Disclosure: This was not a paid post. The opinions stated are my own and were in no way influenced by the Hosting Company who graciously provided the product for me to review.