I can still remember the excitement back in the days when this blog started. You know, the feeling of getting a single GFC fan…and then see it grow month by month. Well, Melissa form S.O.S. Mom has just reached the 1000 GFC fans milestone and we are here to help her celebrate!
---
Throughout our journey as bloggers, we come across several milestones. While some of these milestones are easily achieved, most if not all remain truly special and unique. And then there are the ones who are just simply and inevitably worth the celebration. These celebrations are a way to thank every single individual who took part in our fantastic success and accomplishment. And besides, any opportunity is good enough to par-tay, right!? And you know what they say, the more the merrier! So we would like to invite you all to join us in celebrating a very, very special event for S.O.S. Mom.
We would like to cordially invite you to come and join S.O.S. Mom in celebrating the 1,000 GFC fans mark in this grandiose giveaway event! As a thank-you to all those special fans, we will be offering 10 lucky readers one Urban Quest adventure! A total grand prize of nearly $300! But what is Urban Quest you ask! It is a real life Amazing Race in your city! Just get your Sherlock Holmes on by solving brain-tickling clues and puzzles in your very own city! A family day packed with fun, laughter and new discoveries, guaranteed!

This is a FREE blogger event. Sign ups will end on December 3rd. Everyone gets one free link, with a choice between either Facebook or Twitter, in exchange for posting and hosting the giveaway post along with the Rafflecopter form on their respective blog during the entire event duration. Any additional link is $1. You are allowed a maximum of 4 links, including the free one. All entries must be paid via Paypal to melissa_campeau@hotmail.com.
Please take note that the person who will refer the most amount of bloggers will earn a host page spot.
Giveaway will be open for entries from December 6th up until December 18th, inclusively. Canadian and US residents will be eligible to enter.
For more details or to join the event, please refer to the form hereafter.
An enormous thank-you to co-hosts:
Mom Blog Society
Mom Does Reviews
Real Momma
Mudpies and Tiaras
From PDX With Love
Homeschooling Mom 4 Two
Geeky Gamer Mom
Grab the button!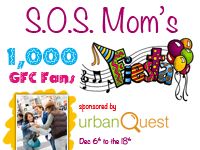 <div align="center"><a href="http://sosmom.blogspot.com/2012/11/blogger-event-1000-gfc-fans-fiesta.html" title="S.O.S. Mom's 1,000 GFC Fans Fiesta"><img src="http://i1342.photobucket.com/albums/o772/TheSOSMom/Fan-fiesta-button.jpg" alt="S.O.S. Mom's 1,000 GFC Fans Fiesta" style="border:none;" /></a></div>