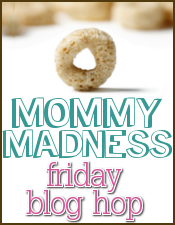 Yei! I bet you guys are annoyed by now with me posting thing after thing after thing…but don't worry!! I am not done yet! hehehe Chowy, chowy…
Jennifer and Laura Jane have this new blog hop meme which changes every Friday (so make sure to check back weekly!).
Today's theme: "Mommy Madness" moment!
Where to start?
I have two boys so my house is always a mess. A. can not see a clean room. Every single item in our house has to be on the floor. If he is done drinking from his sippy cup he'll throw it across the room and then when he gets thirsty and he can not find it in the sea of toys that is my living room, boy will get cranky so there will be more flying toys…also, the play pen where we put the toys has to remain clear at all times…nothing is allowed in it, except for him.
His new thing is to completely destroying his bed…as in taking everything off the bed, mattress included! And then he takes everything to my bed room and does the same to my bed (except my mattress) and he jumps off the bed into the pillows.
It drives me crazy! Somebody is going to get hurt trying to walk through my living room or my bedroom! I am still surprised that he hasn't gotten hurt at all. He is always jumping off the walls and his bones are intact!!
And don't get me started on my laundry duty…whole other story.
At times I want to go hide in my closet with the lights off…