If you know me or have read my blog you must know that I simply love to take photos. I can always been se carrying my camera around with me everywhere I go. And, this must come to no surprise, I have more than 50GB of photos! 17 GB of A.'s first year of life!
Surprisingly I do not have any photos around my house. I either forget to print them or Ty and I can't seem to agree on a picture frame we both like.
I remember in middle school we had a project where we had to invent something. Just come up with an idea and pretend we have built a prototype. My team's invention was the digital photo frame. Like CEIVA's.
In 2000 CEIVA Logic, Inc. was founded by former Disney executives with a pioneering vision: to bring the world together through the power of digital photography. Industry leaders then and now, CEIVA was the first company to invent and market digital photo frames. Their award-winning, patented technology has positioned their product line as the premier choice in the marketplace.

Always at the forefront of industry breakthroughs, CEIVA continues to innovate advances in the way consumers see, share and store their digital photos.
-Excerpt from CEIVA.com
When I had the opportunity of reviewing one of their frames I was excstatic! Could not turn it down.
For my review I received the CEIVA Pro 80™ – which offers built-in Media Server connectivity to let you stream photos instantly from your computer over your home network. You can also connect at the speed of Wi-Fi (included) or optional broadband for fast access to new slideshows sent directly from friends and family located anywhere across the world. Also featuring a high-res 8″ display, memory card reader, Wi-Fi adapter, intuitive on-screen menus and interchangeable faceplates to suit any home or office setting, the CEIVA Pro 80 is far different from any ordinary digital photo frame.



Features Include
Phone and Wi-Fi connectivity
Media Server connectivity (learn more)
Built-in memory card reader
Interchangeable black and wood-finish faceplates (included) or custom skin designs (optional via skinit.com)
Easy-to-use on screen menu to control display modes, rotation and deletion, slideshow transition and timing, screen on and off times and more.
Perfect True-to-Photo™ display (no stretching, cropping or squishing)
PicturePlan photo delivery service required — 1 year included

Invite friends and family to send photos to your frame from anywhere in the world — for free.
Unlimited photo storage and customization, channel selections (news, weather, calendar, sports & more) and greeting cards.
PicturePlan Lifetime Warranty (if it breaks, we fix it for free*)

The CEIVA frames are super easy to install. I used the Wi-Fi connection instead of the broadband. I already have one to many cords to take care of. The Wi-Fi connection does not require cables but an USB-like Wi-Fi antenna.
The CEIVA Pro 80™ has a capacity of 60 pictures. Every time you add new photos it makes room for them so there is no need for you to do this. If you added more than the 60 pictures allowed, CEIVA will send 60 of them every day until it is done sorting through the new additions. You can also customize your photos and add channels to your frame, like the weather, news, Christmas countdown, quote of the day, calendar, etc.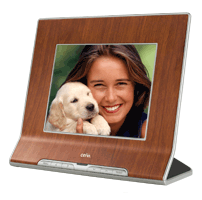 My frame came with a brown faux-wood skin. Then I thought it'd be awesome if I could personalize it, and you can! It makes it that much more personal.
The feature I like best is that you can invite as many people to send photos to your frame, which makes the CEIVA photo frames that much more awesome!
If you have friends and/or family in another city or state the CEIVA frames make the perfect gift! Christmas, Mother's Day, Father's Day, house warming gift, wedding gift, you name it. Simply imagine your parents waking up on the other side of the country to a new picture of their grandkids every day! Or sending a crazy picture from your night on the town to your best friend who had to stay home with a broken leg.
CEIVA is currently having an amazing sale! All CEIVA frames have been reduced and shipping is free on all orders over $99!
– GET IT –
The CEIVA frames can be bought at their online store or you can go here to find the retailer store closest to you.
– GET CONNECTED –
Follow CEIVA on Twitter and/or Like CEIVA on Facebook.

Disclosure: I received the CEIVA Pro 80™  for review purposes only. No other compensation was received. The opinions stated are my own and were in no way influenced CEIVA Logic Inc.